By Thomas Black / www.bloomberg.com / February 1st, 2019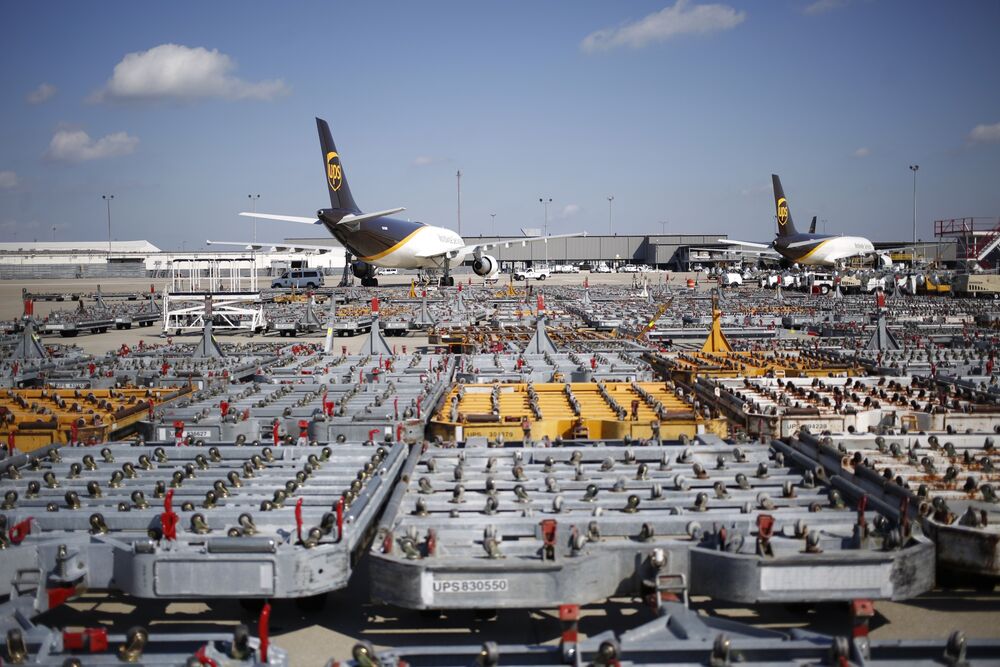 The UPS Worldport facility in Louisville, Kentucky. Photographer: Luke Sharrett/Bloomberg
United Parcel Service Inc. is beginning to reap the benefits of a three-year plan to increase investment in new cargo jets, automation and package-sorting capacity to cope with surging demand from e-commerce.
Profit margins held at more than 10 percent in the fourth quarter even with capital spending that jumped to $6.6 billion in 2018, more than double the average annual amount over the previous five years. That provided evidence that UPS was able to keep costs in check while handling higher package volumes during the holiday rush.
"UPS posted its strongest peak-shipping season since at least 2013 last year, and these trends should continue as new global sorting hubs come online," Helane Becker, an analyst with Cowen & Co., said in a note on Thursday.
UPS and FedEx Corp. are under pressure as the rise of online shopping has fueled an increased in residential deliveries. Such shipments tend to be less profitable than drop-offs at businesses, where each address is likely to receive more packages. UPS Chief Executive Officer David Abney is responding by boosting efficiency and focusing on small businesses to shore up profits as sales growth picks up.
The shares advanced 5.2 percent to $106.42 at 2:10 p.m. in New York after rising as much 6.7 percent for the biggest intraday gain in a month.
Speedy Impact
That's a turnabout from last year, when UPS announced the stepped-up investment on Feb. 1 and investors reacted by pushing the stock down 17 percent over the next month. The company still has a long way to go to regain the ground lost from its $134.09 peak in January 2018.
UPS is surprising investors with the pace at which its transformation strategy is adding to earnings, said Dan Sherman, an analyst with Edward Jones. They had thought the impact would show up mostly in 2021 and 2022 and could even hurt 2019 results because of the increased spending, he said.
"What this result says is that the positive benefits are going to be spread out more evenly over the whole time period," Sherman said in a telephone interview.
What Bloomberg Intelligence Says

"United Parcel Service has pulled several investments forward to increase the use of technology and automation to mitigate mix-driven margin compression. We believe any increase to earnings guidance will likely hinge on the pace of margin improvement at Domestic and continued economic growth."
-- Lee Klaskow, global freight transportation analyst
Click here to view the research
The courier provided some reassurance to investors who were worried after FedEx warned in December that slowing international markets would be a drag on profit. Other U.S. companies have also warned of trouble abroad amid trade tensions with China and uncertainty over Britain's looming exit from the European Union.
UPS's overseas sales rose 5.4 percent in the fourth quarter after adjusting for currency fluctuations -- even amid a "slight slowdown" -- as the company continues to take market share from competitors, Abney said.
"For international as a whole, we had our best quarter that we've ever had and Europe is a big part of that," he said in an interview with Bloomberg TV. "We're very confident that we will have another good year in 2019 in international and in Europe."
Automation Push
Adjusted earnings rose to $1.94 a share in the fourth quarter, UPS said in a statement. That exceeded Wall Street's average estimate of $1.90. Sales climbed 4.6 percent to $19.8 billion, buoyed by higher pricing and more business deliveries. The company's U.S. operations shipped 21 million packages a day.
"We were very happy this year with the return on our investments. We added a lot of capacity, a lot of technology and it really allowed us to have a very smooth fourth quarter, especially during our peak season," Abney said. "You take that momentum and you go into the new year of 2019, we're really excited about the prospects."
The Atlanta-based company built or revamped 22 facilities in 2018 and plans to do 18 more this year, boosting the amount of packages handled by automated sorting centers to 80 percent from 50 percent in 2017. Last year, UPS placed an order for 18 more large cargo aircraft, a mix of 747 and 767 jets, from Boeing Co.
Labor Costs
UPS said it expects to earn $7.45 to $7.75 a share this year. The midpoint of $7.60 compared with the $7.69 expected by analysts. Those results include a 51-cent hit from tax and pension changes, Chief Financial Officer Richard Peretz said on a call with analysts. Capital spending will amount to as much as 10 percent of revenue.
Labor costs are likely to rise in 2019 after the company reached a new five-year agreement with union workers last year, Becker said.
"The outlook likely factors in the new labor contract along with continued uncertainty regarding U.S.-China trade relations and Brexit," Cowen's Becker said.
www.shipwatchers.com - 24/7 Support including Chat
Small Parcel Negotiation and Audit Consultants