By Meagan Nichols /
www.bizjournals.com
 / December 8th, 2017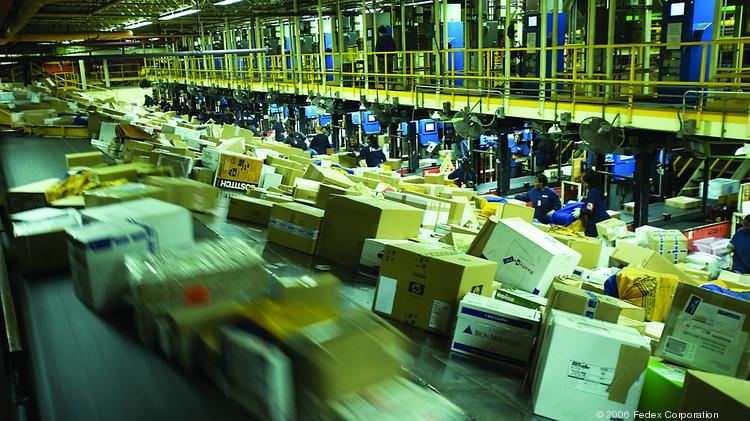 Sorting packages in Memphis hub
Memphis-based FedEx Corp.'s second-largest hub could get a nearly $400 million upgrade.
The Metropolitan Development Corp. (MDC) for Marion County, Indiana, approved a personal property tax abatement for FedEx on Dec. 6.
According to the document, FedEx plans to install $385 million in new package sorting equipment at its hub at the Indianapolis International Airport. The hub is the second-largest FedEx hub in its network behind its Memphis global headquarters. The investment would be staggered from 2018 to 2026. 
The resolution states: 
"The machinery will increase the speed of sorting and the volume of packages that can be processed at the facility. An investment of this magnitude would demonstrate significant commitment to the ongoing operations of the Indianapolis Airport FedEx facility, which would ensure the retention of 805 existing full-time permanent jobs and the creation of 125 new positions by 2026. In addition, FedEx would anticipate retaining approximately 2,940 part-time positions and creating an additional 450 new part-time positions as a result of the project." 
The average hourly wage for the 805 retained jobs is $17.41; the 125 new positions will have a $17.44 hourly wage. For the 2,940 part-time positions, the hourly wage would be $14.66; the additional 450 part-time jobs would pay $13.23 an hour. 
MDC staff approved the application, which called for a 10-year personal property tax abatement that would translate to roughly $29.2 million in savings for FedEx.
FedEx is expected to pay $19.6 million in personal property taxes related to the new equipment during the abatement term, which is in addition to current taxes paid on its personal property assets. 
Once the tax abatement period has expired, FedEx would pay about $4.2 million in annual taxes related to the new equipment, along with the annual taxes for existing assets. 
The staff analysis for the resolution states: 
"The applicant is requesting tax abatement to assist in off-setting the high costs of investment associated with this proposed project. The granting of property tax abatement will assist the petitioner in making this project more economically feasible by phasing in the increased tax liability resulting from the investments. In staff's opinion, a project such as this would not be economically feasible without the tax abatement incentive." 
FedEx has more than 400,000 employees, averages 13 million shipments per business day — except for the peak holiday season — and connects more than 220 countries and territories. In fiscal 2017, FedEx reported $60.3 billion in annual revenue. 

www.shipwatchers.com - 24/7 Support including Chat
Small Parcel Negotiation and Audit Consultants